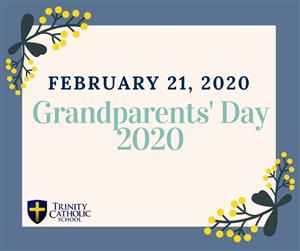 Grandparents' Day 2020
All Grandparents and "adopted" Grandparents are invited to attend this special event on Friday, February 21, 2020. Grandparent check-in begins at 8:00 AM in the Parish Hall.

Please note that this is a Knights' Out (Early Release Day) at 12:00 PM for PK3, PK4, and Kindergarten and at 12:15 PM for Grades 1-8. However, Grandparents may check out students with parent permission at 10:45 AM.

Parents, please complete this online form to register Grandparents: https://forms.gle/PvYud6NLiiVA2tP38

This online form MUST be completed by a parent/legal guardian for Grandparents or "adopted" Grandparents to attend Grandparents' Day on February 21, 2020.

The deadline to complete and submit the form is Wednesday, February 19, 2020.