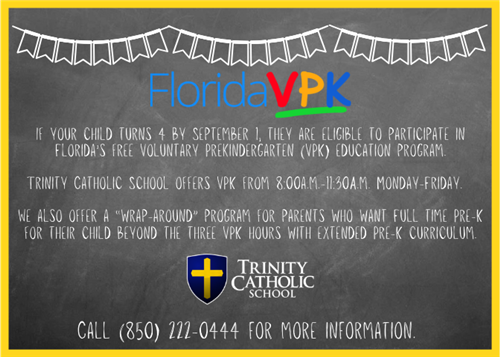 Florida VPK at Trinity

Parents must first register their child with Trinity Catholic School. Click here to go to Admissions

To be eligible for VPK, your child must turn 4 before September 1st and have proof of Florida Residency.

Registering for Florida VPK

Click here to register for a Florida VPK Voucher and then click "Apply for Voluntary Pre-Kindergarten"
Create a username and password or sign in.
Follow the email instructions to validate your account.
Fill out an application.
You will need:
1. Proof of Florida residence
2. Proof of child's age
When asked for your desired VPK session, choose the 2019-20 school year and the 540 hour options.
You will recieve a Certificate of Eligibility via email.
Once you have recieved your VPK Voucher (Certificate of Eligibility), email it to Jody Sheppard at Sheppardj@trinityknights.org or bring to the front office.