The mission of Trinity Catholic School is to teach the Catholic faith within a challenging academic curriculum, laying the foundation for all students to grow in Christian maturity, integrity and knowledge.
A Guide to Holy Week & Easter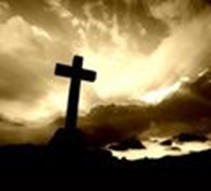 This is the holiest week of our Church year. The week begins with Palm Sunday of our Lord's Passion. The season of Lent ends with the beginning of the Triduum at sunset on Holy Thursday and the celebration of the Mass of the Lord's Supper. We recall Jesus' crucifixion on Good Friday. On Holy Saturday, we participate in the Easter Vigil with the Service of Light, stories of our faith history, and the initiation of catechumens and candidates with the Sacraments of Baptism, Confirmation, and Holy Communion. Easter Sunday dawns gloriously as we celebrate the Resurrection of Christ Jesus.
Each year, we encourage families to make Holy Week special, different from every other week of the year. While spring sports practices are beginning and some families are preparing to travel, it is important for Catholic families to fast from their usual extracurricular activities. Consider spending some time together in activities that will help your family enter into the celebrations of the holiest week of our faith.
The celebrations of Holy Week are filled with signs and symbols, smells and tastes. In order to more fully appreciate them, we need to step out of our ordinary lives and enter into the extraordinary events of Christ's passion, death, and Resurrection.
Here are some suggestions to make this week extraordinary.
Give up technology from Good Friday until Easter Sunday morning.
Daily Bible study. (It's easy for only one week!)
Attend Triduum liturgies
Check Pinterest and blogs for online ideas for crafts for each day and display (See crown of thorns bread recipe below.)
Host an at-home foot washing ceremony. It is really powerful to wash someone else's feet, and especially for children to wash their parents' feet and each other's. Use the account of the Lord's supper in John 13:1-11.
To connect with the Last Supper and Jesus' blessing of bread and His offering it to the Apostles as His body, bake bread for Holy Thursday's evening meal. Follow the simple recipe on this page. (Even though it contains a rising element — the baking powder — it does not contain yeast, the leavening agent, in accordance with the Passover.) The bread can be used in prayer or just as a snack with honey or butter.
Create your own crown of thorns. Use the same bread recipe, but instead of forming a loaf, cut the dough into three 18-inch ropes and braid them into a circle. Add toothpicks and bake per the recipe on this page. Use the crown of thorns as a centerpiece for prayer.
Host a movie night. Watch Mel Gibson's portrayal of Jesus's last hours with older children (warning: graphic but realistic violence).
With a group or family members, create "freeze-frame" Stations of the Cross. Form small groups and ask each to create a scene that illustrates a certain part of the Passion. Once groups are ready, have someone read the Passion narrative, allowing groups to do their freeze frame during the appropriate part of the story.
Have pretzels for dinner or snack and share the history of the symbolism of the pretzel as representing the Trinity.
Put religious items such as small books and gifts in the Easter basket, not just candy.
Read "The Legend of the Easter Egg" by Lori Walburg (Zondervan, 2011), which presents the egg as a symbol of new life and the resurrection.
Roll out of bed and get outside to watch the sunrise together, the time of day the Resurrection was discovered. Celebrate Easter joy with a lavish breakfast and a table decorated with colorful symbols of new life—fresh flowers, succulent fruit, colored eggs.

Recipe for unleavened bread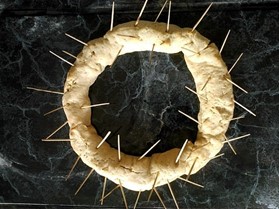 1/2 cup of white flour
3/4 cup whole wheat flour
3/8 tsp salt
3/8 tsp baking powder
3 Tbsp vegetable oil
3/8 cup warm water
2-3 Tbsp honey
Mix all ingredients together in a bowl. Do not over stir. Pat dough into a circle on a greased cookie sheet, about 3/8-inch-thick, about 5 inches round. Score top of loaf. (Cut lightly into eight sections, not all the way through.)
Bake about 15 minutes at 400 degrees.